A look at the concept of loft homes and their interior design considerations. Part I of the 2 part series.
You may or may not have heard of a 'loft', or a 'loft apartment'.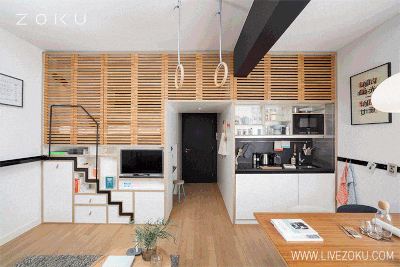 It's become a popular topic of discussion among interior designers in Bangladesh…and also among home owners, renters, and home buyers in Bangladesh.
As a top interior design brand of Bangladesh, we get queries about loft interior design ourselves.
However, we have noticed that a lot of our clients who enquire about loft design and decor, seem to not be very clear on what a loft is, what its features and uses are, and who it is best for.
So, in this blog post, we have decided to give you a basic idea of important concepts of loft homes and loft interior design.
Loft interior design – overview
First we will see what a loft is, including things like how it differs from apartments and who it is good for.
Next we shall go over a few key features of a loft space.

High ceilings
Large spaces
Decadent look.
Few internal walls.

And finally, we will see what you should keep in mind when discussing a loft design project with your designer.
What is a loft?
A loft typically refers to a space in a building, just below the roof and usually accessible through a ladder or a single staircase. Sometimes, lofts are taken to more generally mean the uppermost storey of a building.
While such a space was traditionally taken to be a storage space, in recent times, lofts are being used as living spaces.
And, even more recently, many buildings have come to denote most of their dwelling units as lofts, giving rise to the term loft apartment or loft home.
The origin of loft apartments
Loft apartments, as we have come to know them, are the result of industrial buildings – usually in city centres – being converted into living spaces. This took place in a large scale in the United States.
Due to their use as industrial buildings, such living spaces had a few features (like being large in nature) in common. We shall look at these features in some detail in a bit.
As such dwelling unit became popular, many builders and interior designers began to deliberately design apartments in that fashion – including typical loft features in them – giving rise to loft apartments existing on a large scale.
Who are loft style homes aimed at?
In other words, who should buy/design a loft apartment to live in? Who is it good for?
Well, many people have an attraction to the very term 'loft apartment', and they should definitely go for it.
Also, due to their large size, loft apartments can appeal to those who like open floor plan homes.
What are the features of loft style homes and apartments?
All loft apartments have a few features in common, like:
High ceilings: The original loft homes were repurposed from industrial buildings. As you can guess, industrial buildings tend to have high ceilings for various reasons. And so, high ceilings (or high walls).
Large spaces: Likewise, an industrial building would have large rooms to accommodate multiple pieces of large machinery. This gave the typical loft apartment a large, spacious look.
Decadent look: Remember, abandoned industrial buildings (not ones being actively used) were converted into lofts. This means the typical loft would have some signs of disrepair or being abandoned, like pipes, exposed brick walls and so on.

Such features have caught on as aesthetic elements in loft style homes nowadays. For example, exposed brick walls are a deliberate design style.

Few internal walls: To deepen the sense of largeness, internal walls are avoided in loft style homes, which means they typically have one large open space with different parts going for different functions (a cooking corner, a living room corner, etc).

Of course, important privacy requirements like in bathrooms and bedrooms are still met.
This is the basic open floor plan home idea.
What to consider when discussing loft interior design with your designer?
To avoid design issues, approach the loft project discussion with your designer carefully.
As the top interior design company in Bangladesh, we know the typical issues you may face, and will suggest that you:
Read this article carefully and know what a loft style apartment has.
Consider your requirements carefully.
Explain to the designer with precision what you need out of the loft apartment; the benefits you are expecting.
Further reading
To enhance your understanding of loft interior design, you can go through the following blog posts.
We mentioned how loft apartments will be attractive to those who prefer open floor plan homes. If you don't know what those are, refer to our post on open plan living in Bangladesh.
When you discuss the loft design project with your chosen designer, you will have to go into topics like interior design project management, and interior design timelines. Here is a post on typical interior design project timelines to help you understand those things better.
For more clues on what to expect when designing or planning your loft style apartment, go through our home design and building checklist post.
To build you loft home according to the latest design trends, check out our will we see these designs in 2022? article.
Finally, if you want to host a party in your loft apartment, have a glance at our installing festive lights at home guide.